Background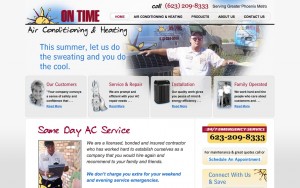 On Time Air Conditioning & Heating was in search of a Internet marketing firm that could help them attract targeted prospects through the Internet. They wanted their website (www.ontimeairaz.com) to show up in the major search engines results page (SERP's) for more targeted keyword phrases in order to leverage the fact that a substantial amount of people are consistently looking for a company that offers the exact products and services they offer in their city.
The search engine marketing campaign Cogent Marketing built and managed for On Time Air Conditioning & Heating included services that focused on achieving the following online marketing goals:
Rank Their Website at the Top of the Search Engine Results Page (SERP's) for Targeted Keyword Phrases

Track, Understand & Leverage their Website Analytics

Gain Additional Market Share by Running a Targeted Google Adwords PPC campaign

Improve Positioning in Local Maps Listings and Local Directories
When Local Pulse Started with On Time Air Conditioning & Heating, On Time Air was not actively marketing their website through SEO or PPC efforts.
The Strategy
The services provided under the Local SEO & PPC campaigns include:
Market Research & Competitive Analysis

Keyword Research & Analysis

Local Business Listings Submissions & Optimization

Targeted Search Engine Optimization

Custom Landing Page Creation (for Google Adwords Campaigns)

Google Adwords Campaign Built & Monthly Optimization
Cogent Marketing conducted in-depth market research and competitive analysis to understand the landscape of the HVAC vertical online in the Phoenix Metro area before building On Time Air Conditioning & Heating's Internet marketing campaign simply because market research directly impacts the build out of each marketing campaign.
The Results
The results listed below were achieved between June 2011 and Aug 2011 (2 ½ months)
BEFORE THE CAMPAIGN: On Time Air Conditioning & Heating ranked for 5 keywords. They had no analytics or phone tracking in place to measure online marketing efforts & they were not actively marketing their business through SEO or PPC.
AFTER THE CAMPAIGN: After two and a half months of consistent search engine marketing, On Time Air Conditioning & Heating ranked for 32 keywords. SEO efforts produced 264 SEO Calls (18% conversion ratio of website visitors to callers), and of those calls 56 people bought/purchased. That only covers the SEO results. On Time Air Conditioning & Heating also produced revenue through the PPC campaign. There were 66 total PPC calls which generated 13 new clients producing a 115% ROI just from PPC efforts.  When you combine both SEO and PPC marketing efforts campaign produced a 454% ROI in just 2 ½ short months.
The Proof
The image below indicates that just over 60% of all website traffic during this campaign came from the search engines which is a direct reflection of On Time Air's search engine optimization and pay per click campaigns.
The image below shows you call tracking for On Time Air Conditioning & Heating. This screenshot represents the phone call activity produced by Internet marketing efforts that came in on July 3rd .  All calls with a "ppc" in the adgroup column represent calls generated through pay per click campaigns. Calls with no adgroup listed means those phone calls were generated through organic SEO (search engine optimization) efforts.
Local SEO also increased activity over at On Time Air Conditioning & Heating's Google Places Listing. There has been an overall increase in 'impressions' and 'actions' (as indicated by the graph below).
Do You Want Internet Marketing Results Like This?
CONTACT US TODAY